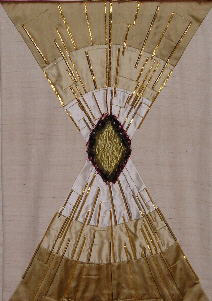 The top triangle contains the word "Gloria" worked several times. It represents God's glory coming down to earth; the

Gloria in Excelsis

of the angels' song in Luke 2. The Gloria is met in the lower triangle with the word "Alleluia", the response of creation to God's glory, but also a word especially associated with Easter and the Church's response to the Resurrection of Christ.

Where the two triangles overlap, a diamond shape (right) is formed, seen as a focus of the power of light and love to dispel darkness and evil. Here "Gloria" and "Alleluia" get mixed up and are tied together in a Celtic knot-like design based on motifs from the Shandwick Stone, indicating the intricate involvement of God in Man; a tying together which in his mercy and through the once-given act of Christ's love on the cross can never be undone.

Within the diamond shape are also 13 jewels/stars - a symbol of Mary and, below, 5 drop stones to represent the 5 wounds of Christ.